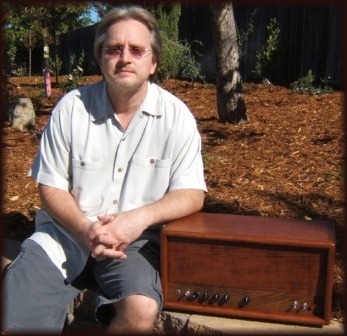 want an amp?
about me
I'm an amp hobbiest, weekend warrior. About 10 builds per year is as much as I make time for. By day, I'm an electrical engineer. My hobbies have always included guitars, wood working and electronics, which all come together in making top quality tube amps.
step one: know what you want
I can help you with amplifier choices based on the type of sound you want or music you want to emulate. But, I'm not going to decide for you. This is the most difficult part of having an amp built via the internet. You won't be here to try out various topologies and you won't be here during the tweaking phase. You'll need to do this on your own so that you'll be able to tell me what you want. I have great success building for long-time players who have experience with lots of amps. They know what they want. What you get from me is a
full custom build
. The circuitry and components can be what ever you want. Cabinet cosmetics can be what ever you want. Have a look around the
gallery
for examples. My specialty is plug 'n' play, tone for days, tube amps... Especially those no longer available in production today.
step two: know what you can spend
A custom amp is built completely by hand starting with sheet metal and slabs of wood. This is a lot of work, so it's not cheap. What you get is top quality, tough as nails, one of a kind. If you're looking for a way to get an amp cheaper than something commercially available, this is not the place. Don't bother asking for a JTM45 cheaper than the reissue available from Marshall. Buy a Marshall. But, if you want a full custom build, with military grade components, hand-wired with teflon, silver, aircraft wire, hand-tweaked to sound great, then
email me
.
step three: consider the cosmetics
What cab style do you like? What colors do you want? Anything is fair game since this is a custom, one of a kind. Of course, fancy cabs like flame maple will cost more than a basic pine+tolex cab. Still, whatever you want can be done. So, consider all the details of cabinet style, right down to the type of corner protectors and handle (if any). Here's a spalted maple cabinet using wreck styling.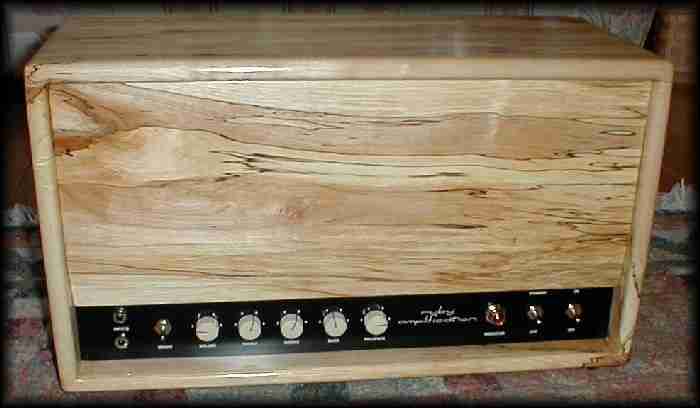 Faceplates for the chassis are custom made via laser etching. The sky is the limit on art work and colors. To see what colors are available, have a look at
inoplas stock material
. Most of the stock is two-color but the "reverse engravable" are engraved from the rear to transparent, which enables painting the artwork any color, multiple colors or backlighting from inside the chassis through lighting gel for color. The faceplate below is black, reverse engraved with white lettering, gold logo and back-lit bobcat:

step four: get the ball rolling
After discussion with me (
email
is fine) and you are
certain
you want a custom amp and we have agreed on details and price, then you just need to say "go." I do not ask for money until the amp is complete but I do need your
full commitment
to buy the amp when it's done. It's just like hiring a contractor to work on your house. I'm your amp contractor. No money is needed until the work is done but, when the work is done, it must be paid for.
step five: the ball is rolling
I'll keep you fully updated on progress roughly on a weekly basis via email including pictures. Being a weekend-warrior on amps, a typical build will take about 3 months, depending on work load. I will also confer with you prior to committing anything permanent to production. This is especially true of cosmetics, like the faceplate. Faceplate design is usually an iterative process to get the design just the way you like before I send it off to the laser shop.
step six: when does the ball stop rolling?
Of course, I guarantee a great amp arrives at your door. Anything short of that will be taken care of. Plus, I'm always available for help after the sale and I'm willing to provide service to any amp I've built. Labor is free. Shipping and parts is all you'll pay for. Forever! The only time this is not true is in the event of abuse, destruction or unqualified modification.
content & layout © copyright paul ruby 2001 through 2006
all rights reserved