tagboards
NOTE: I no longer offer unstuffed tagboards. I will only make complete boards, with parts. Blank board and turrets are also available.
materials
Your choices for board material are all shown in the next pic. These are black G10, green G10, red swirl GPO-3 and brown XX garolite. All of these are rated for use as electrical board with an operating temperature range up to 289 degrees F. They are also all mechanically sound and very well suited to tube amps. Choose what you think looks cool!
The following is an example board done in brown with single-level turrets.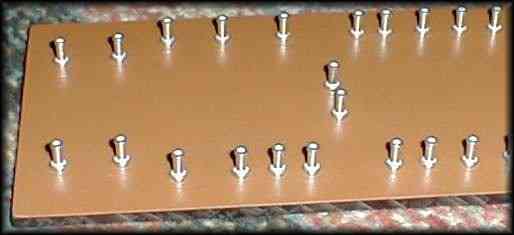 raw materials
Blank board and turrets are also available. All board stock is 3.125" wide. I can rip narrower widths if desired. If ordering blank board, the quantiy is the number of inches in length desired.
Here's a pic of the turrets available. The two on the left are the double and single level for 1/8" board. On the right are the double and triple level for 1/16" board. Note the triple level are not hollow.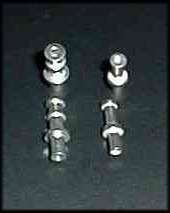 board faq
Can the boards wear out or melt with lots of mods?
Garolite is tough stuff made for high temperature swings. They surely won't melt and they're impervious to moisture. For heavy modding, I would suggest double-level turrets. Double level turrets give you room to remove and add components without disturbing another component on the same turret.
Can I specify component types when ordering a stuffed board?
Absolutely! I have most of the typical component types and values on hand. If you want something unusual, you may need to point me to a supplier. But, I'll stuff a board with anything you want. You pay for parts plus a fixed labor fee. See the
prices section
for more details.
What's the advantage of double-level turrets?
This is really just personal preference. I like double-level for my boards because they provide more room for component leads and wrapping wires while still allowing easy mods later. Single-level are fine if you intend to build and never mod. Eyelets are my least favorite as they provide the least room. But, it's really up to you to decide what you like in terms of looks and ease of building.
ruby amplification is not associated with ruby tubes
content & layout © copyright ruby amplification 2001, 2002, 2003
all rights reserved